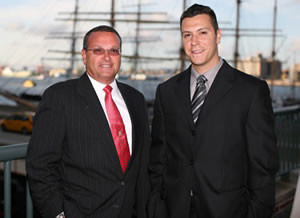 Anthony Composto, Senior Partner, began his practice over 25 years ago, offering accounting and tax services to a wide spectrum of corporate and individual clients nationwide. Anthony Felicia has been a member of the firm since 1992. In 2001, he joined Mr. Composto as partner. The accounting firm of Composto & Felicia, LLC has been servicing their clients for over 7 years.
Composto & Felicia is part of a network of major financial institutions, investment advisory companies, business and personal insurance providers, mortgage brokerage companies, computer software companies and law firms that specialize in tax and contract law, offering clients a complete package of services without leaving the office.
Today, the firm of Composto and Felicia LLC. has a full staff of accountants and back office personnel able to meet the needs of clients such as:
Corporation and Individual Income Tax Services.
Payroll services to include the preparation of company's systematic payroll checks or deposits to employees' personal accounts.
Payment of company's payroll taxes and the preparation of quarterly payroll tax returns.
Sales Tax preparation.
Full double entry accounting services to include QuickBooks or our internal accounting system.
Accessibility to our client's records anywhere in the world.
Representation before federal, state or local taxing agencies.
Insurance audit representation.
Automation of client's financial documents.
Real estate property management.
The firm, based in the Bensonhurst area of Brooklyn, offers easy access from various highways such as the Belt Parkway and the Verrazano Bridge. It is also a short walking distance from subway and bus routes. The expansion and relocation to a newer facility helps us to service more clients in the tri-state area. Feel free to contact us either by telephone or email and we will be glad to offer a free consultation.